Banner photos by Elizabeth Kirian
"It's been a long time since I've come across a CD that compelled me to listen to every song from top to bottom, and left me wanting for more. The song selections and performances truly reflect the incredible chemistry between Jenna and Rolf. Needless to say, I absolutely love their CD!!! Go Jenna & Rolf!!"
– Larry Batiste (former Music Director for the Grammy Awards)
Plugged in & Turned on in Paradise
Jenna & Rolf first met in NYC at the very end of 1995 in a rehearsal for a 17 piece rock orchestra that was focused on the music of the Grateful Dead. The band toured the United States and Canada, recording and/or touring with folks like Jorma Kaukonen (Jefferson Airplane), Catherine Russell, Tom Constanten (Grateful Dead), Ike Willis (Frank Zappa), and Maggie Roche. Jenna was in the band for 3 years. Rolf was in the band for over 10 years. Together they appeared on 3 of the band's recordings. During this time period, Jenna & Rolf talked about putting a duo together…. "someday."
Fast forward to January of 2014, they decided that "someday" had finally arrived. Jenna returned to New York in June, they played their first gig together in about 18 years, and went into the recording studio the next day. The recording they made, entitled "Spark", was released in 2015. It received nationwide radio play and glowing reviews. Their second CD, "Begin To Dance," was released in 2017. It also received national radio play and marvelous reviews.
The two have been touring almost every month since reconnecting, performing at festivals, conferences, clubs, cafes, and house concerts. They are happy to be performing so much and audiences are unanimous, this is a very special pairing.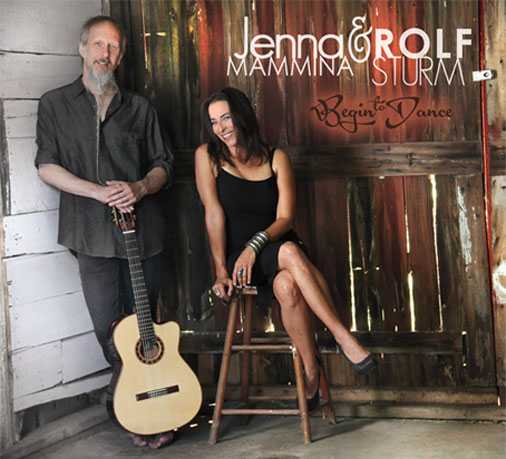 Begin To Dance is a marvelous mix of originals, jazz, and reimagined pop hits. Nationwide, over 180 radio stations added it to their playlist, placing it in the top 100 of the JazzWeek Currents charts.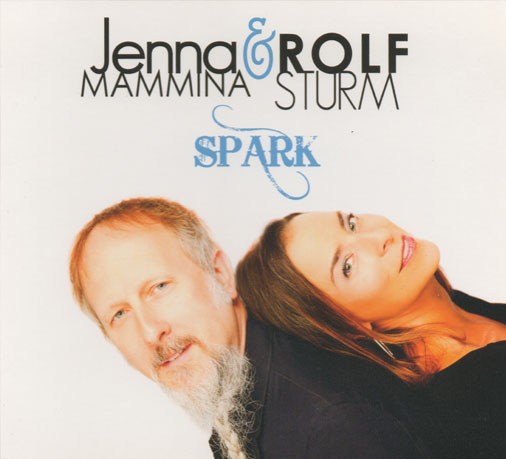 "The beautifully crafted Spark isn't a bowling ball heading for a strike. It's like getting blown over by a feather." – Tony Trischka
ABOUT JENNA
Vocalist Jenna Mammina has been recognized as one of the leading women of jazz/pop crossover for three years in a row by Jazziz Magazine and was awarded Jazz Performer of the Year in the SF Weekly. Jenna has performed with Ricki Lee Jones, Bobby McFerrin, Al Jarreau, David Sanborn, Phish, and Rosemary Clooney. She's appeared at Yoshi's in Oakland, California, The Green Mill in Chicago, and festivals like Jazz Aspen, New Orleans Jazz & Heritage, and Monterey San Francisco. Jenna's first album, Under the Influence, earned a four-star review in Japan's most prestigious jazz magazine, Swing Journal.
"Jenna could sing a page from the phone book and make it sound like her own private piece of the sky. Like a devious detective, she can look around a room of any size and use that gift to freestyle a song on the spot about the people in it, including her band." – Kimberlye Gold
"Mammina deserves to be more widely heard." – Don Heckman, LA Times
ABOUT ROLF
Guitarist Rolf Sturm has played on over 65 CDs. He's performed with or been on recordings featuring: Loudon Wainwright, David Johansen (Buster Poindexter/NY Dolls), Jorma Kaukonen (Jefferson Airplane), Maggie Roche, Eddy Arnold (Country Music legend), Ike Willis (Frank Zappa), Roswell Rudd, Archie Shepp, Tony Trischka, John Medeski, and Catherine Russell. He has performed at the JVC Jazz Festival, Syracuse Jazz Festival, Toronto Jazz Festival, Lincoln Center and the Kennedy Center in Washington, DC. He has performed extensively throughout the US and Europe. His music's been featured on NPR and has received 4 stars in DownBeat magazine.
"He is one of the best solo acoustic and electric guitarists in the business, an in-demand sideman, comfortable playing in almost any style, and much admired by established artists of all genres." – Rick Dandes, "Applause" Daily Item Newspaper
"…a distinct and compelling acoustic voice… Rolf has a sturdy melodic sense, imbued with a sense of inevitability…Rolf is also a master of scrumptious chord motion." – Tony Trischka (banjo master)