Banner photo by Joaquin Torres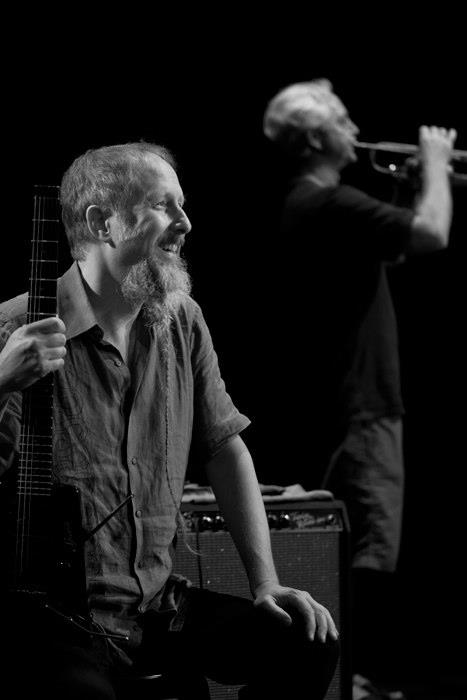 Rob and Rolf have toured North America with the Illuminati big band and have performed in the NYC area with The Walter Thompson Orchestra and the Diane Moser Big Band. They have also toured North America and Europe with various other ensembles including the Strike Anywhere Performance Ensemble. They've performed on soundtracks for both film and television and have appeared on numerous recordings together, including releases on Arista Records, Water Street Music, M-Cons East, Accurate Records, Relix Records, Cathexis Records, Knitting Factory Works, Nine Winds Records, and Which? Records… amongst others.
They live, play, write, draw, and occasionally perform in this duo setting, around the NYC area.
ABOUT ROB
Trumpeter Rob Henke records, works, and tours with many New York City bands including Dr. Nerve, Gary Lucasí Fast and Bulbous, The Spirit of Life Ensemble, Diane Moser's Composer's Big Band, Illuminati, the Walter Thompson Orchestra, and many others. He has worked as an actor with, and co-director of, the educational theater company Good Clean Fun. He has performed with The Likeable War Criminals, and has worked as playwright, actor, and trumpet player with the Strike Anywhere theater company. He has recorded numerous CD's as a leader on Cuneform and M-cons East record labels.
ABOUT ROLF
Guitarist Rolf Sturm has performed with and/or appeared on recordings featuring Loudon Wainwright, Anthony Braxton, Tony Trischka, Billy Martin, Bob Mintzer, Roswell Rudd, John Medeski, Illuminati, Eddy Arnold, Glen Velez, the Walter Thompson Orchestra, Ethan Iverson, and others. He records and tours with vocalist Jenna Mammina and he leads the NYC area band Almost Oslo. He has performed on soundtracks for film and television. His music has been featured on NPR's All Things Considered and All Songs Considered. His solo guitar recording, "Balance", was awarded 4 stars in Downbeat Magazine.